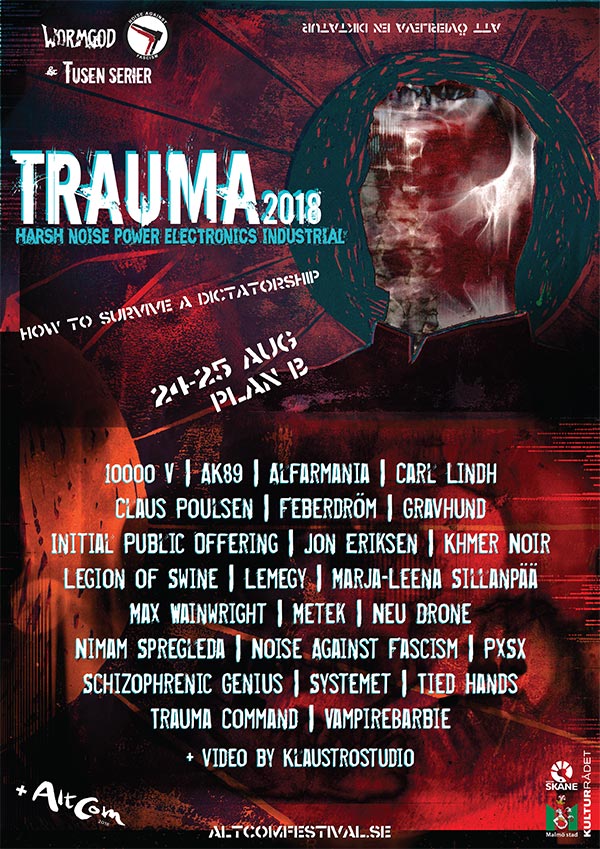 TRAUMA is back! The Malmö harsh noise scene lives again!
As part of the AltCom comics festival, Wormgod & Noise Against Fascism is organising a 2-day noise festival!
Where: Plan B
When: Aug 24-25, 20-03 – First band on stage: 2020
What: Harsh Noise | Power Electronics | Industrial
Tickets:
Door = 100:-/day
Presale (Rundgång or online) = 80:-/day or 120:-/2 days
IMPORTANT: You must be a member of Plan B, which you can do here.

We'll be running a tight schedule, so come early in order to not miss anything!
FRIDAY:
Carl Lindh [SE]
Metek [SE]
Feberdröm [SE]
Trauma Command [SE]
Lemegy [SE]
Max Wainwright [SE]
AK89 [DK]
PxSX (Fkn Fk) [DK]
Neu Drone [SE/DK]
Legion of Swine [UK]
10000 V [FR]
VampireBarbie [SE]
SATURDAY:
Systemet [SE/IT]
Claus Poulsen [DK]
Jon Eriksen [SE]
Noise Against Fascism [SE]
Initial Public Offering [SE]
Khmer Noir [SE]
Nimam Spregleda [SE]
Marja-Leena Sillanpää [SE]
Tied Hands [SE]
Gravhund (Jyske Harsh Noise Mafia) [DK]
Schizophrenic Genius [SE]
Klaustrostudio [SE] (video screening: Unknown location II)

See also the list of comic artists at the festival.
IMPORTANT NOTICE:
To attend TRAUMA you must be a member of Plan B, which you can do here.