For each AltCom since 2010, we've made a festival anthology with comics by artists from different countries, making their own interpretations of the theme of that year.
The book is given away for free before, during and after the festival.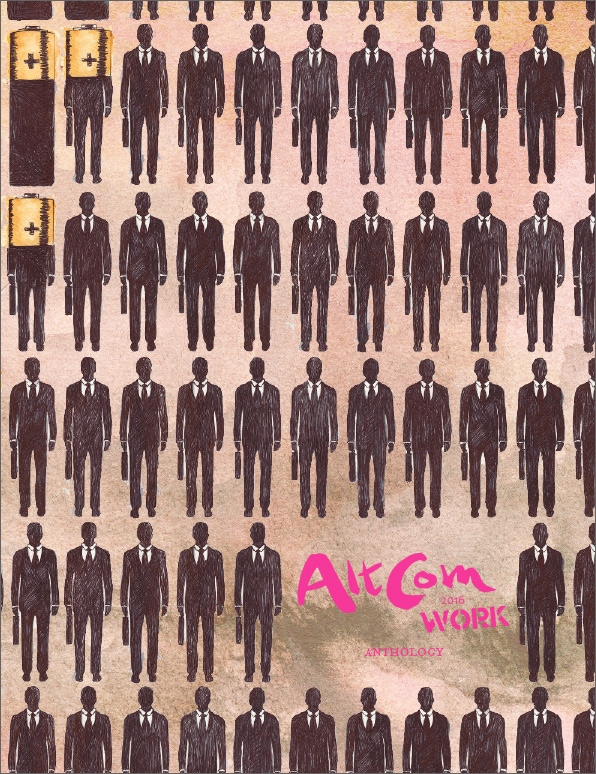 This is the lineup for this year's anthology:
Radovan Popovicć / Rashid
Mileta Mijatović
Aleksandar Opačić
Nils Bertho
Nicolas Krizan
Line Høj Høstrup
Manuel Rodriguez
Jonas Svensson
Patrick McEvoy
Randy Valiente
Henrik Rogowski
Steve Nyberg
Menanda
Teresa Câmara Pestana
Sónia Oliveira
Drajard
Rakel Stammer
Stefan Petrini
Koco
EI
Mitchell Bercier
Kinga Dukaj
Juhyun Choi
Ivana Armanini
Mattias Elftorp
Editors for this year's edition were members of CBK & Tusen Serier:
Kinga Dukaj, Luddvig Melin, Stefan Petrini, Henrik Rogowski, Steve Nyberg, Christina Cromnow & Mattias Elftorp
Since there was a risk that we wouldn't be able to include the printing in the budget, the book was financed through Kickstarter.
Previous anthologies: