Written by: Boris Dolenc, Sandra Ržen, Jernej Žmitek, Matej Lavrenčič, Jure Teržan
Directed by: Boris Dolenc
Duration: 32 min
The film is based on eight comics published in the comic magazine Stripburger:
Love Train (Sascha Hommer, Germany)
Messiah (Vladan Nikolić, Serbia)
Judas the Catholic Squirrel (Alberto Vazquez, Spain)
Fog (Damijan Sovec, Slovenia)
8th Deadly Sin (Kaja Avberšek, Slovenia)
Religions (Matej De Cecco, Slovenia)
Summer Breeze (Dunja Janković, Croatia)
A Man for Malin (Malin Biller, Sweden)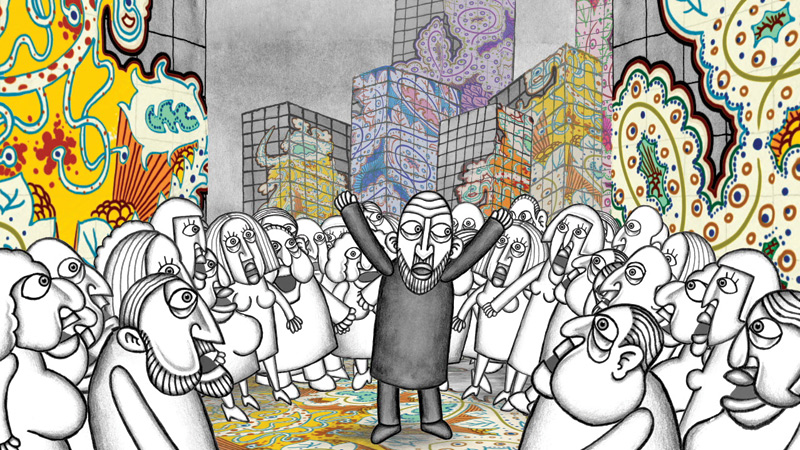 Made for the celebration of Stripburger's 18th birthday. The anniversary of its existence was the perfect occasion to put the comics in motion.
Production: Forum Ljubljana
Co-production: Invida, 100
Financial support: Ministry of Culture of the Rupublic of Slovenia, City of Ljubljana: the project is part of the Ljubljana – World Book Capital 2010 programme
Slovenija, 2010
Boris Dolenc (född 1982) studerade regi för film och TV vid Academy of Theatre, Radio, Film and Television i Ljubljana. Har regisserat fiktion, dokumentärfilm, animerad film och musikvideo. För sin film Embrio fick han Zlatolaska Award för bästa elevfilm (2007). Under 2009 vann han Vesna Award för bästa animerade film för kortfilmen Tummelisa på Slovenska filmfestivalen. 2010 var han utvald för Berlinale Talent Campus. Wanted fick Vesna Award för bästa animerade film på Slovenska Filmfestivalen 2013.
Filmografi (urval):
Maček Muri (Muri the Cat) 2013
Wanted 2013
Smehljaji (Smile) 2010
Stripburger v gibanju (Stripburger in Motion) 2010
Palčica (Thumbelina) 2009